About Topic:
Every year a large quantity of leaf litter is generated during the winter. Due to lack of any alternative, people burn off these leaves, which is a health hazard, an environment hazard and a fire hazard. The nutrients present in the leaves should go back to the soil too are destroyed in the process.

Just as there are people who have dry leaves, there are people who want dry leaves. Both kinds of people exist in the city and need is to simply bring them together. Brown Leaf started in Pune February 2016 as a forum for precisely this - to connect the 'people who have dry leaves' and the 'people who want dry leaves'.

The people who have dry leaves donate the leaves to people who want them. The very first year, members exchanged around 10,000 gunny bags of leaves through the forum. This year around one lac gunny bags of leaves were exchanged. Every year, this number keeps increasing.

The leaves that would have gone up in the air as smoke, now go back to the soil, nourishing it and enriching it. Gardens are blossoming on these dry leaves, providing fresh vegetables to the families, right in the heart of the city. Considering quantity of leaf litter generated every year in the city, the leaves we have saved through the exchange is still a drop in the ocean. But we have solved at least a part of the problem.

Brown Leaf that started as a mere leaf-exchange forum is now a collaborative community, where lot more than leaves are exchanged. The same concept is being replicated in other cities as well.

Through our 3-fold strategy, MULCH-COMPOST-DONATE, with every leaf that goes back to the soil, we inch towards our vision, 'Not a single dry leaf should be burnt in India.'

The presentation will tell the story of the Brown Leaf Initiative, its history, it's mode of operation and the plans it has going forward. Web: www.brownleaf.org; www.facebook.com/BrownLeafPune/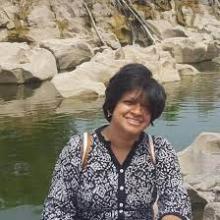 Jeevitnadi – Living River Foundation
About Speaker:
Aditi Deodhar founded the Brown Leaf Initiative in 2016. She is also Founder Director – Jeevitnadi – Living River Foundation an initiative for river revival through people participation.

She has a master's degree in Industrial Mathematics with Computer Applications and a Post Graduate diploma in Sustainable Management of Natural Resources & Nature Conservation from Ecological Society, Pune.

She worked in the IT sector for 6 years and with an NGO as a software consultant for 3 years, where she helped convert manual tools into software tools.

She is also author Ira, Viraj and The Time Machine (in English and Marathi) and also of गोष्ट तशी अलीकडची, काही कोटी वर्षांपूर्वीची a book in Marathi that narrates the story of Mutha river that flows through the city of Pune.
Date& Time:
Tuesday, March 22, 2022 - 19:00