About Topic:
There is a strong correlation between poverty and energy poverty. Energy poverty is rampant in rural areas, both in Africa and the Asia-Pacific. The focus of national governments has been more on how to ensure more people are served with scant regard for the quality of delivery. Also, the emphasis has been more on the distribution of hardware accompanied by very quick training, delivered by specialists who have scant knowledge of the local issues. However, there are now many examples of good models and practices of government partnering with non-governmental organizations (NGOs), businesses, and social enterprises, combining professionalism with the wisdom of local communities. The path of "energization" towards sustainability can be guaranteed by the government making long-term commitments in partnership with private players for the development and strengthening of community-based institutions.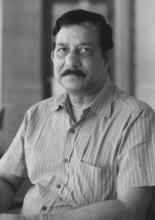 Regional Advisor for Asia
French Agency for Ecological Transition (ADEME)
About Speaker:
Dr. Brahmanand Mohanty is an independent energy and resource, management specialist. He has also been serving the French Agency for Ecological Transition (ADEME) as its regional advisor for Asia since 1991. He was associated with the Asian Institute of Technology (Bangkok) from 1986 to 2020 as a faculty in the Department of Energy, environment, and climate change. He has undertaken short-term professional assignments for bilateral and multilateral development agencies during the last three decades in some 25 countries, especially in Asia but also in the Middle East, Africa, and the Mediterranean region. He obtained his doctorate in energy from the Institut National Polytechnique (Toulouse, France) in 1985.
Date& Time:
Wednesday, April 7, 2021 - 17:30