About Topic:
This seminar presentation talks about the slight deviation in the core agenda of TIDE a nonprofit with a mandate of sustainable rural development enabled through science, technology, and innovation. TIDE had demonstrated success in the development of biomass energy products and their acceptance at the grass-root through process innovations and rural entrepreneurship. In its efforts at creating women's energy-linked enterprises, TIDE faced unanticipated challenges. This presentation shares TIDE's introspection into its gender and livelihoods projects, its assessment of what had worked, if yes, to what extent and what had not worked. It shares its experiences in course correction by putting women through a curriculum comprising exposure, awareness, and confidence-building. It discusses the journey of awakening of rural women and TIDE's realization that with proper nurturing women had the potential to transform rural India in spite of multiple disconnects between development agencies, development practitioners, and grass-root communities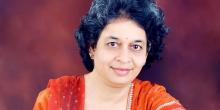 Clean Energy Access Network
About Speaker:
Svati is has been associated with several organizations in India in the area of clean energy. Her area of work is largely in the design and dissemination of thermal energy interventions for domestic and rural informal industry applications. She is the President of Clean Energy Access Network, (a network of practitioners in decentralized renewable energy. She has studied Chemical Engineering and is an alumnus of the Indian Institute of Technology Bombay. She has played a crucial role in shaping the space around sustainable technology innovation and dissemination, grassroots entrepreneurship models, and associated policy initiatives through CLEAN, TIDE, and Sustaintech.
Date& Time:
Tuesday, September 21, 2021 - 17:30