About Topic:
Living Waters Museum is a virtual museum that engages youth in identifying and communicating stories about transforming waters in their environs. We seek to co-create a digital repository to facilitate collaborative work towards sustainable and equitable water futures. In this talk, I will walk us through some of our recent initiatives which present multidisciplinary perspectives about water - technological, social, and cultural – through storytelling, data visualization, and the arts. I will illustrate how such initiatives can provide a platform to create widespread awareness about our intricate and interconnected water systems.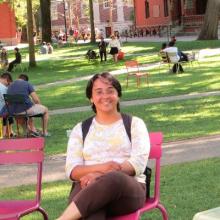 Living Waters Museum, Pune Chapter
About Speaker:
Chhavi Mathur works as a project lead and curator at the Living Waters Museum (Pune chapter) that is presently embedded at the Centre for Water Research at the Indian Institute for Science Education and Research (IISER) Pune. She did her Ph.D. at the Indian Institute of Science (IISc) in Bangalore and worked for a few years at the National Institutes of Health (NIH) in Bethesda, USA. With her background in science and ongoing work in the museum and education sectors, she is exploring ways and means to bridge science and society.
Date& Time:
Tuesday, October 11, 2022 - 17:30