About Topic:
For any livelihood initiative to be successful there must be a channel of sale for the product or service and a right set of offerings that will generate a sustained income for the community one is working with. Experience from around India suggests that while self-help groups (SHGs) get different skill sets in training, there is a lack of understanding of market trends and availability of sales avenues, leading to a failure in generating sustained substantial income.
    Generating 'sustained substantial income' is, however, easier said than done. Have we understood the pain points of the community? Have we understood the challenges of geography and most importantly, why are we doing this? Why are we providing this opportunity to the rural community? Are we too being pressured to choose quantity over quality?
    This presentation will share the experience of the social enterprise PashooPakshee and the work it has done over the last six years in four villages in Central India and in the city of Mumbai. The challenges faced include those created by cultural and geographic barriers on the one hand and lack of quality education on the other. The work brings to light a community engagement experience which can gives insight on the time needed for livelihood initiatives to become successful.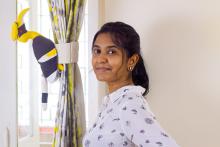 PashooPakshee (www.pashoopakshee.com) is a social enterprise that started with a vision to give tourists a meaningful take-away by providing socially responsible and destination specific souvenirs at India's tourist attractions which are made by artisans and locals living near the destination. It works with marginal and tribal communities that live near periphery of protected forests and wildlife reserves, people who interact daily with wildlife due to their way of life or proximity.
    The intervention was a response to the fact that there is a lack of quality souvenirs in the Indian tourism space with the proliferation of mass manufactured items and cheap imported products being sold everywhere. It christened itself PashooPakshee because it started with a focus on wildlife & nature tourism. Over the years it has begun to explore and work with other tourist sectors as well.
About Speaker:
Savini Sonavaria has a a Masters in Communication Engineering from BITS, Pilani, She is an avid wildlife enthusiast, a passionate traveler and a Latin ballroom dancer. She has worked for corporations like CISCO Systems and Larsen &Toubro (L&T). Her cross functional Master's thesis at Nature Conservation Foundation was where she learnt about the pressing issue of human-animal conflict and the need of providing alternative livelihoods to communities who shared space with wildlife. Having noticed the lack of quality souvenirs in the Indian tourism space, she decided to quit corporate life to bridge this gap and started the social enterprise PashooPakshee.
Date& Time:
Tuesday, January 17, 2023 - 17:30