About Topic:
Building with mud is an over 10,000-year-old practice that is regaining popularity globally, driven by the rising negative impact of the construction sector on our climate. In India, the escalating demand for affordable rural housing has refocused attention on this local and traditional building material. However, the construction of mud houses is rapidly declining in the country. What reasons contribute to this decline? Do people still prefer living in mud houses? Moreover, can local materials like cow-dung play a role in bridging the housing gap?
This talk will take you on a journey that integrates civil engineering, material science, anthropology, and architecture for reinventing traditional mud and cow-dung bricks to develop affordable, durable, and desirable earthen homes. The exploration commences with a year-long field study in rural India, identifying the technical and social needs for mud house redevelopment. Subsequently, an in-depth study investigates the water resistance characteristics of cow-dung stabilized mud blocks. The research culminates in the development of an industrial process for scaled-up production, which is then used to construct a full-scale demonstration structure. Finally, the presentation concludes with a discussion on the communication strategy devised for the research to improve its impact and outreach.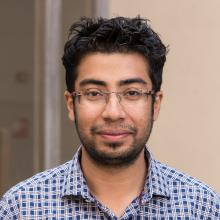 Enterpreneur and Counsultant working at the intersection of mud construction ,Bio Based Material ,Industrial Design and Science Communication
About Speaker:
Dr. Yask Kulshreshtha is an entrepreneur and consultant working at the intersection of mud construction, bio-based materials, industrial design and science communication. He earned his PhD from Delft University of Technology (TU Delft), the Netherlands, in 2022 on the topic 'Building affordable, durable and desirable earthen homes'. Prior to that, he completed his MSc in Geo-Engineering (honors) from TU Delft, and a B.E. in Civil Engineering from BVM Engineering College, Gujarat. Throughout his career, Yask has been recognized for his innovative work. He has been a Delft Global and KVPY fellow, and is recently awarded the 'WDCD Make it circular challenge' for developing the CoolBrick, a cow-dung stabilized mud block. Additionally, he has received various grants, such as the RVO scale-up funding for startup, NWA idea generator for post-doc, Delft Global Fellowship for PhD, and SPARC international staff exchange fund. Yask enjoys traveling and has a particular fondness for desserts. Currently, he resides in Goa, where he continues to pursue his passions in research, education and science communication.
Date& Time:
Tuesday, October 17, 2023 - 17:30