About Topic:
The triple burden of malnutrition is crippling our country. It is not just undernutrition and micronutrient deficiency in children under 5 years of age and pregnant mothers that we are trying to tackle but it is also overweight and obesity in all age groups. Do we know how many percent of children between 5-9 years of age are metabolically unhealthy in our country? Is it only overweight people who are falling prey to metabolic diseases or even thin people are prone to it in India? Is it genetic or epigenetic?  It is the need of the hour to understand why young adults are diagnosed with high blood pressure, and diabetes and so many young athletes are dying of heart attacks. Why infertility and menstrual abnormalities in young women are shooting up?  Why do most of our senior citizens have one or the other health conditions & everyone we see around has a high waist-to-hip ratio? Is it that, what children are lacking in important nutrients in their diet making them short and thin, and is continuing the same kind of diet in adulthood is resulting in diseases? In this session, we will be focusing on nutrition through the life cycle approach, human physiology, biochemistry, and basic metabolic functionaries, and how various nutrients are needed to run our human machinery function efficiently and effectively and without any diseases. How do we improve our health holistically not just by healthy food but also by other lifestyle changes will be discussed.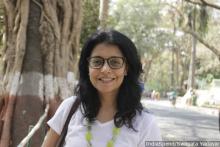 Adjunct Associate Professor
Centre for Technology Alternatives for Rural Areas (CTARA), IIT Bombay
About Speaker:
Rupal M Dalal, MD, completed Pediatric Medicine from Cook County Hospital, Chicago, and was also awarded the International Board Certification of Lactation Consultant (IBCLC). She has worked on the elimination of malnutrition in children in the slums of Mumbai and other tribal and rural areas of India since 2007. Dr. Dalal is currently an Adjunct Associate Professor at the Department of Centre for Technology Alternatives for Rural Areas (CTARA), IIT Bombay, and is the Technical Expert for the Health Spoken Tutorial Project for which her team has created 91+ tutorials on the topic of nutrition through life cycle approach in 15 constitutional languages as well as 6 tribal languages of India. Dr. Dalal is a consultant on Maternal, Infant & Young Child Nutrition for the state Governments of Uttar Pradesh, Arunachal Pradesh, Gujarat, Goa, and various district level administrations, is the founding medical director of an NGO, Foundation of Mother & Child Health Clinics in Mumbai.
Date& Time:
Tuesday, September 20, 2022 - 17:30