About Topic:
Large-scale renewable energy (RE) projects such as wind and solar farms have a large spatial footprint, and are fast emerging as threats to the conservation of sensitive ecosystems and biodiversity. India targets increasing its installed non-fossil fuel capacity from 150 GW to 500 GW by 2030 in its intended nationally determined contributions (NDCs) under the Paris Agreement.

Seen as "green" energy, these projects are exempt from environmental impact assessments, despite their known ecosystem-wide impacts. We use empirical evidence from India to show how RE projects intrude into threatened forested and savanna ecosystems with potentially adverse effects on biodiversity. Further, such large-scale projects have also usurped grazing commons, impacting traditional pastoralist livelihoods. Of the ~470 RE projects, 24% were located either within or in a 1km buffer around PAs. A further 14% of projects were located within grazing commons. There is thus a strong need to better understand the cross-cutting linkages, dynamics, and trade-offs between renewable energy, biodiversity conservation, and agro-pastoralist livelihoods whilst balancing between Paris agreement goals and the Aichi Biodiversity targets.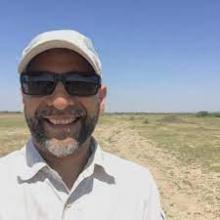 Senior Fellow and Interim Director,
Centre for Policy Design, Ashoka Trust for Research in Ecology and the Environment (ATREE)
About Speaker:
Abi Tamim Vanak is a Senior Fellow and Interim Director, Centre for Policy Design, Ashoka Trust for Research in Ecology and the Environment (ATREE), a DBT/Wellcome Trust India Alliance Clinical and Public Health Fellow, and Honorary Professor, University of KwaZulu-Natal, South Africa   His research interests are in animal movement ecology, disease ecology, OneHealth, savanna ecosystems, invasive species (both plant and animal), and wildlife in human-dominated systems. His current work focuses on varied outcomes of interactions between humans, domestic animals, and wildlife in semi-arid savannas, and other socio-ecological systems.
Date& Time:
Tuesday, March 8, 2022 - 19:00