About Topic:
Abstract: Project 14 Trees is a grassroots effort for ecology restoration and nature conservation. Our mission is to undo damage caused to nature by humans, regrow forests on ecologically devastated patches of land, restore ecology, rebuild biodiversity, generate sustainable livelihoods, inspire all stakeholders (tribals, villagers, urban dwellers) to engage and act and promote harmonious, sustainable coexistence with nature. The project started in 2013 near village Vetale in Khed taluka. The land that was barren then today has a lush green forest with 150+ native varieties of trees. This was achieved in eight years by relying only on rain water harvested locally. Inspired by the success of the project, local farmers, gram panchayat members, NGOs from the nearby villages are voluntarily coming forward to engage with the project to make their barren lands available for tree plantation. A definite potential now exists to expand the ongoing work over a bigger region. Through a series of real-life incidents, stories and case studies, we'll describe how the project 14 Trees got started and what challenges we faced and what we aim to achieve in the future. Web: https://14trees.org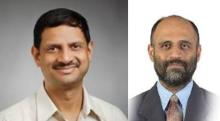 Pravin Bhagwat & Ajay Phatak
Founder of 14 Trees & Trustee of the Ecological Society
About Speaker:
Pravin Bhagwat: Pravin has a B.Tech. in Computer Science from IIT Kanpur, India and MS/PhD in computer science from the University of Maryland, College Park, USA. He is an entrepreneur and a wireless security researcher. He was Co-founder & CTO of Mojo Networks -- a product venture which started in year 2003 from Pune and grew to become a leading provider of Cloud Managed Secure Wi-Fi for the global market. In 2018, the company was acquired by Arista. For the past seven years, Pravin has been pursuing his passion for nature conservation by reforesting a large tract of barren land near Pune as part of Project 14 Trees. Ajay Phatak: Ajay received his B. Tech. in Chemical engineering from IIT Bombay (1984) followed by a master's degree in computer science from the University of Pune. He has also received a distinguished service award from IIT Bombay in December 2009. Ajay is a Trustee and Faculty at the Ecological Society (founded in 1982) and teaches environmental history, energy concepts, energy economics and the impact of energy on the environment. He also teaches sustainability and sustainable marketing at the Symbiosis MBA program. He is also a founding director of JPP Alumni foundation, Alumni Organization of Jnana Prabodhini Prashala, founded in February 2021.
Date& Time:
Tuesday, October 3, 2023 - 05:30