About Topic:
Story of Makers is an initiative of Tarun Mitra Mandal, a 50-year-old not-for-profit organization working in the field of education, health care, right to information, and social upliftment. It is an attempt to fill in gaps in traditional education systems by working closely with students enabling them to be observers, doers, thinkers, and makers and providing them diverse experiences in STEAM - science, technology, engineering, arts, and math. The Story of Makers is constituted by multiple sub-projects such as 'Makerspace', which is a tinkering lab for young children, and 'Science on Wheels' where the team visits rural schools and engages students on topics like concepts of science, adolescence education, design thinking and conducting hands-on workshops and 'Gharse Charcha' where children get a chance to interact with eminent personalities to get their insights on multiple topics. The Story of Makers is constituted by people from different walks of life like engineering, design, management, medical, business, and entrepreneurship, with the aim being to enrich the experience of learning and bringing change.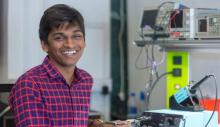 Tata Centre for Technology & Design
IIT Bombay
About Speaker:
Zubin Chetan Savla is an electronics engineer and currently, Manager, Tata Centre for Technology & Design - IIT Bombay, where he is involved in developing health care devices among other things. He's been mentoring many innovators and entrepreneurs for the End-to-End Product Innovation Program of IIT Bombay. He is a Maker and was also a part of the production lead of UNESCO's 'Story of Light' a project where science meets art. He runs a space called Balcony Lab where kids come and play with electronics and also make DIY projects. He has started with "Library of everything" a community space (Makerspace) filled with toys, books, and tools as a learning center. He is a member of the managing committee of the NGO Tarun Mitra Mandal and co-founder of the non-profit organization Story of Makers, which is a platform for makers, designers, and innovators for making and enabling young talents to showcase their projects and take them to the market.  
Date& Time:
Tuesday, August 23, 2022 - 17:30