About Topic:
Communities that live in and around the forests depend on them for meeting their energy requirements. Sustained firewood (fuelwood) extraction leads to forest degradation which in turn affects the region's water, ecological security and eventually economic development. People's movement in forests for firewood collection also puts them at risk of encountering and being attacked by wildlife. Studies have also highlighted the negative health consequences that firewood usage has, especially on women and children.       The ~1,200 sq. km area of Bramhapuri Forest Division in Maharashtra's Chandrapur district, is one of the most important forest blocks outside the protected area network in the Central Indian Landscape (CIL). This region supports nearly 50 adult tigers and forms an important corridor between tiger reserves in Maharashtra, Madhya Pradesh and Telangana. This forest is dotted with 608 villages that are occupied by some of the most marginalised communities, dependent on forest for their day-to-day sustenance.       The presentation will present the findings of a detailed study on firewood extraction and related issues in a cluster of 49 villages in this forest landscape. The study found, for instance, that a) Firewood consumption increases with rising income levels; those in the top 25% income bracket consume the highest amount of firewood and LPG: b) Upto 97% of households depend on firewood for heating water due to lack of a viable alternative c) LPG adoption under ongoing government programs has resulted in firewood consumption by 40%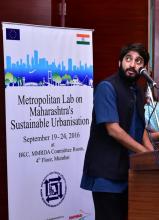 Conservation Behaviour Vertical, Wildlife Conservation Trust, Mumbai and PhD candidate, Mumbai School of Economics and Public Policy
About Speaker:
Aniket Bhatkhande leads the social sciences research program in his role as the Head of the Conservation Behaviour vertical at Wildlife Conservation Trust. His work is primarily focussed on analysing the micro and macro impact of ecosystems governance in India. He has a Bachelor's in Law from Government Law College, Mumbai University and a Master's degree from the Department of Economics, University of Mumbai. He has worked previously worked with Kotak as an analyst.He is currently a doctoral student at the Mumbai School of Economics and Public Policy.
Date& Time:
Tuesday, January 10, 2023 - 17:30