About Topic:
Ahimsa is understood in diverse ways. What is clear is that ahimsa is not the absence of violence. Wanting to learn about the many ways in which people define, understand and experiment with ahimsa led me to launch the online platform 'Ahimsa Conversations', on YouTube. (https://www.youtube.com/channel/UC63Bx1fQYOkCEom93k4T2tg)
The Ahimsa Conversation series, which I launched on Mahatma Gandhi's martyrdom day 30th January in 2020, aims to make a wide range of experiences, of the striving for and practice of, nonviolence accessible online. A wide range of scholars, activists and professionals in different spheres have shared their experiences on this platform.
By mid-August 2021, 77 conversations with people from 17 different countries had been published on the Ahimsa Conversations platform. The diverse speakers in this series have explored both the philosophical basis of ahimsa as an ideal, as well as the challenges and promise of ahimsa in everyday life and as a method in political action. The linking thread through all the conversations is that ahimsa is not seen as the absence of violence nor only as a form of political action. Many of the speakers in this series have been people who have addressed the structural violence of the global economic system, striving for ways to build less violent systems.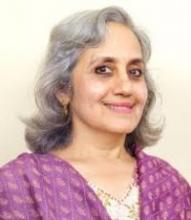 Gandhi Smriti and Darshan Samiti, an autonomous body under the Ministry of Culture, Government of India
About Speaker:
Rajni Bakshi is a Mumbai-based author, speaker and curator of 'Ahimsa Conversations' which were launched on YouTube On 30th January 2020, for exploring the possibilities of nonviolence in today's times. She is a prolific writer, with a number of books under her belt including Bazaars, Conversations and Freedom: for a market culture beyond greed and fear (Penguin, India, 2009 and Greenleaf, UK, 2012) and Bapu Kuti: Journeys in Rediscovery of Gandhi (Penguin, India, 1998).
She is a member of the Executive Committee of the Gandhi Smriti and Darshan Samiti, an autonomous body under the Ministry of Culture, Government of India. She serves currently on the Boards of Child Rights and You (CRY), Citizens for Peace (CfP) and the Centre of Education and Documentation (CED)
Date& Time:
Thursday, September 30, 2021 - 17:30