About Topic:
'How to become a professor in an Indian Institute of Technology (IIT)?' is a question which is asked by several in our country. There is an increasingly large number of awareness and mentoring programs conducted by organizations and academies in this country to address this query among the public in general, and graduate students in particular. Another equally important question to which answers must be sought is, 'How to survive as an early career academic or researcher in today's India?'. Many Indian academic or research institutions offer to young professionals what are termed as 'permanent' jobs; however, stagnation, dearth of progress and lack of navigation along multiple directions of growth (both one's own individual growth and that of his/her employer) can prove fatal for one's career and more importantly, personal well-being, if adequate, timely step are not taken to make sure one is not only 'surviving' but also 'thriving', particularly compared to global benchmarks. In this seminar, I will talk about key responsibilities expected out of an early career academic in a leading engineering institute in India, highlight some opportunities and challenges towards a bright and successful academic/research career and also offer suggestions to avoid some mistakes which (I think) I did. I will share some stories, and mentoring advice that I had been lucky to receive, and hopefully hear back from the audience about what drives them towards their own pursuit of excellence. Women graduate students and early career researchers are expected to particularly benefit from this talk, since I will also share some experiences and suggestions on overcoming gender-defined obstructions.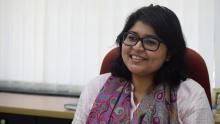 Department of Civil Engineering & Interdisciplinary Program in Climate Studies
Indian Institute of Technology, Bombay
About Speaker:
Dr Arpita Mondal works as an Associate Professor in the Department of Civil Engineering and Interdisciplinary Program in Climate Studies at the Indian Institute of Technology (IIT) Bombay. Her research focuses on hydroclimatic extremes - how they can be characterized, what causes them, and how they are likely to evolve with climate change. Prof Mondal serves as an Associate Editor of the AGU journal Earth's Future and the Springer journal Regional Environmental Change. She was featured recently in the book 'She Is: 75 Indian Women in STEAM' by the Office of the Principal Scientific Advisor to the Government of India and the Red Dot Foundation, honoring 75 Indian Women Scientists. She received the DST INSPIRE Faculty Award and the Asian University Alliance (AUA) Scholars' Award.
Date& Time:
Tuesday, August 16, 2022 - 17:30